A Short History of the Small Faces Fan Club
Having a fan club back in the 1960's was seen as a necessity for popular bands to build up their music following. Being a Fan Club secretary was also seen as an envious job to have, especially if the band was publicly famous.
Right from the start of their live music performances the Small Faces became very popular, particularly on the Mod scene.  Jimmy Winston, the original keyboard player for the Small Faces initially had his brother Derek help with fan mail, but then Jimmy asked a friend, Fran Piller to do it, and along with her friend Yvonne, they both took over and ran the fan club from Fran's home in east London.
After the band signed with Don Arden and following the huge success of their first single "Whatcha Gonna Do About It", Don decided to bring the fan club in-house and run it from the management offices in Carnaby Street. This is when he advertised for a full-time qualified secretary for the role.
Pauline Corcoran was the first official full time employed fan club secretary for the Small Faces. Pauline started working for the band in 1965 when she was just 16 years old.  She had trained as a secretary, and this was her first full time job after leaving school.  Pauline had always wanted to work in the entertainment business, following the footsteps of her mother who worked as a make-up artist for an independent television studio based at Wembley Park where the family lived.
When Pauline got the call from her employment agency to go for an interview working for a "Pop music group" she was very excited and had been hoping it was "The Who" her favourite Mod band at that time.  The interview took place at 52-55 Carnaby Street with Don Arden.  When he told her the name of the band she'd be working with (Small Faces) she was visibly disappointed.  But her reaction got her the job.  Don was looking for someone who wouldn't be in awe of the band, especially as she would have unique access to the band that no one else would have. The job involved accompanying them on tours and television appearances and Don needed someone who would behave professionally and be able to cope with the pressure of working with someone famous.  Don explained to Pauline that this access was necessary so that she had an inside knowledge of the band, as this would provide her with the material she needed to write newsletters and respond to the many media requests she would get, especially from the music press.
At the peak of the Small Faces success on a daily basis, Pauline had the mammoth task of responding to the thousands of fan letters that arrived in sacks at the Carnaby Street office. She would often answer letters on behalf of the band on an electric typewriter (there were no computers back then!).  Every three months she produced a four-page newsletter that was sent out to the thousands of fans club members. All the labels were typed manually on her typewriter and other office staff and sometimes volunteer fans that turned up at the office would all help with the huge mail out. As the Small Faces became more and more popular a full-time assistant was employed to help Pauline with some of these tasks, allowing Pauline to deal more directly with the band and the key parts of running a fan club.
The Small Faces visited the Carnaby Street offices regularly, in between their hectic tour schedules of course. Steve would appear more often to have meetings with Don Arden discussing details about the band's music. Steve and the other band members would also come to the fan club office for interviews and photoshoots. While they were at the office, they would often help Pauline, and sign autographs for their adoring fan club members. Of course, they could often be in high spirits, messing about and typing funny messages on letters that Pauline was halfway through typing!  But Pauline was very patient with them and was always good natured.  The band was very fond of her, and she saw them as her mischievous brothers.  Pauline went with them to their concerts and tv studio appearances, including the overseas ones in Europe.
Pauline worked with the Small Faces from their time with Don Arden and continued to work for them when they left his management and went firstly to the Harold Davidson agency and then Immediate Records and Andrew Loog Oldham.  By the end of the band's time together, Pauline was working from home running the fan club. This was something she didn't want and didn't enjoy. But she remained loyal to them right up until the band split in 1969.
Pauline reconnected with Small Faces fans in 2007 following the unveiling of a commemorative plaque outside the old fan club offices in Carnaby Street.  She delighted in meeting fans again and re-uniting with both Kenney and Mac.  It took some persuading, but she eventually joined the Facebook family and was able to communicate regularly with fans online sharing anecdotes of her time working at the fan club.
She sadly died in January 2016.
Pauline's Fan Club Memories on Facebook
The official Small Faces Fan Club Facebook page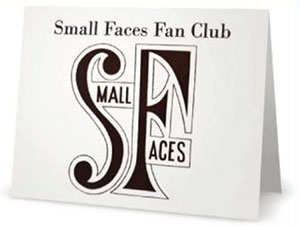 An open page for those who are genuine fans of the 60's band Small Faces.