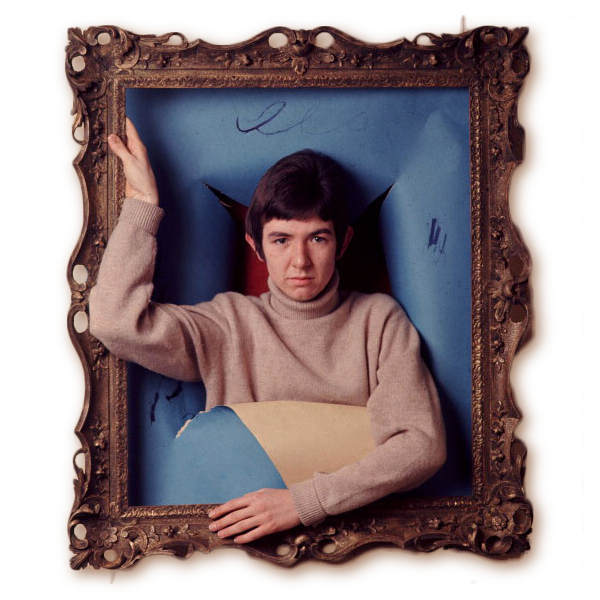 Ronnie Lane
There has never been any shortage of reasons to love Ronnie Lane. If his barrow-boy twinkle and the fact that his nickname was Plonk aren't sufficient, well, there's always the music. "Short and sweet" is how Ian McLagan, fellow member of the Small Faces, remembers his old friend Ronnie Lane, the bass player and singer who co-wrote some of the group's greatest hits.
Lane was indeed one of the funniest, sweetest, and most entertaining personalities in a music business not noted for its humility. Not that Ronnie was ever humble. He just could not take pretentious rock attitudes seriously. He was a man whose eyes crinkled up when he laughed, and whose tiny frame shook when tears of mirth poured down his cheeks.
Born April 1, 1946, in Essex, England, Lane demonstrated a knack for showmanship at an early age. As he'd later recall, he was nudged toward music by his father, a truck driver who counselled young Ronnie that if he learned how to play guitar, he'd always have a friend — words that proved prophetic during Lane's teen years, when he linked up with drummer Kenney Jones to form a group they dubbed the Outcasts. After meeting Steve Marriott and bonding over their shared love of American R&B, the pair invited Marriott to a pub gig that night and when he got up on stage, he jumped all over the pub's piano, breaking the keys. "The landlord threw us out, the group broke up and we ended up with just me, Ronnie and Steve sitting on our equipment on the pavement. We looked at each other and burst out laughing, and that was the birth of the Small Faces and the next chapter in our career. If I hadn't met Ronnie Lane first the band wouldn't have happened."
Ronnie developed a genuine interest in Eastern mysticism and studied the teachings of Indian mystic Meher Baba and shared his interest with Pete Townshend of the Who. The pair recorded a well- received album together called Rough Mix (1977), written in the spirit of Baba, which included a performance of Don Williams's "Till The Rivers All Run Dry".
After Steve stormed off the stage in 1968 which precipitated the end of the Small Faces, Ronnie and the remaining members Ian McLagan and Kenney Jones, united with Ronnie Wood and Rod Stewart (both from The Jeff Beck Group) to form the Faces. For four years they toured the world, playing enormous venues and selling truckloads of records and hit songs written by Ronnie and Rod, like 'Stay With Me' and 'Pool Hall Richard'. Ronnie shared primary song writing duties with Rod Stewart and Ronnie Wood, composing, or co-composing many of their best-loved pieces and took a central role during the recording of their fourth and final album, Ooh La La, right as the band's front man Rod Stewart was focused on his own solo career.
Ronnie left the Faces mid 1973 and formed his own band, Slim Chance, in late 1973 to record the hit single "How Come" (UK No. 11) and "The Poacher" (UK No. 36), then the album Anymore For Anymore, showcasing his own blend of British rock music, folk, and country music. 'Retiring' to the Welsh countryside, Ronnie kept playing with his band Slim Chance, producing a couple of Folk/Rock albums of songs written with his wife Kate Lambert, for the Island label.
Lane was unable to develop his musical career much further, having developed multiple sclerosis. He was first diagnosed in 1977 when he showed loss of muscle control. Kenney described how: "He seemed very forgetful, slurred his words and tripped up a lot. We accused of him of being drunk and of having a secret tipple, but he wasn't of course."
Lane had dreaded for some time that he might be susceptible to MS as his mother suffered from the same disease. Jones and Lane used to carry her up and down the stairs at the block of flats she lived in in the East End. Tragically Lane had to suffer for many years before he died. When Jones telephoned Lane up and told him that Marriott had died in a fire at his Essex home, in 1991, "the first thing he said was: 'I'm jealous.' He meant that."
In 1981, Ronnie was part of The Majic Mijits with Steve Marriott and Zoot Money, but they were unable to tour their album as Ronnie's condition worsened, although it was re-issued many years later in 2000.
Having lost most of the money he earned with the Faces, Lane found himself not only broke but unable to earn a living. Several attempts were made to raise money for him. In 1983 a special charity concert was held at the Royal Albert Hall in London, which featured Eric Clapton, Jeff Beck, Jimmy Page and members of the Rolling Stones. Lane asked that some of the money raised be donated to research, to find a cure for MS, and Action Research For Multiple Sclerosis (Arms) was formed. The Arms concert was a big success and the whole package later toured America. Lane himself appeared and sang a moving version of "Goodnight Irene".
In 1996 a special tribute album was organised, A Tribute to the Small Faces: Long Ago's and Worlds apart, featuring Paul Weller, Primal Scream, the Buzzcocks and Ocean Colour Scene which raised money for Lane who was by now living in poverty in Austin, Texas with a nurse who later became his wife. He moved to Colorado in search of a better climate but was soon confined to a wheelchair. His condition deteriorated to the point where he was unable to speak or move. He tried many different treatments including homeopathy and even injections of snake bite venom. He used to joke to friends who asked how the treatment was going, "Well a mosquito bit me this morning – and it died."