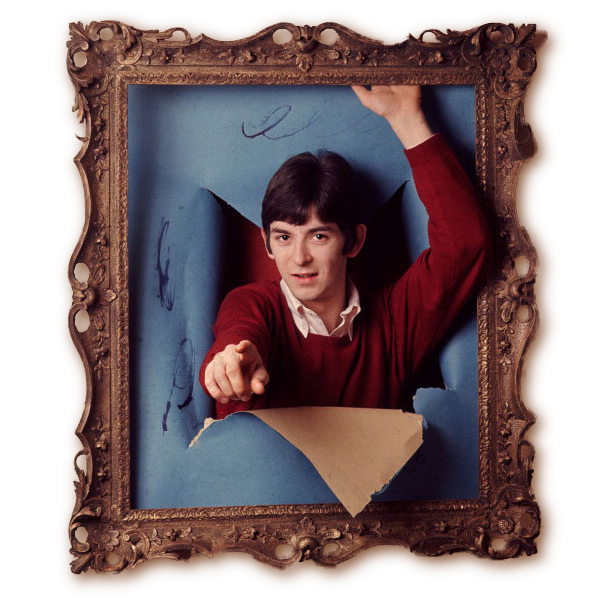 Ian McLagan
Ian 'Mac' McLagan was a genuine, dyed-in-the-wool rock'n'roller. In fact, his smiling visage —he was, after all, the keyboard player for two of Britain's greatest bands the Small Faces and the Faces — would serve as an ideal illustration in the proverbial Dictionary of What Is Truly Cool. You can read all about it in his vivid and delightful memoir, All The Rage, a book that The Express hailed as "One of the best music books in years."
McLagan entered the music game in Swinging London in the mid-1960s whilst at Twickenham Art School forming the 'Muleskinners' who were good enough to play behind visiting U.S bluesmen such as Sonny Boy Williamson and Howlin' Wolf.
Mac went on to replace the original Small Faces keyboardist Jimmy Winston after their first hit in 1965. All or Nothing, Itchycoo Park and Tin Soldier Featuring Mac's trademark Hammond B-3 organ, just a few of a dozen later hits. From 1968 to 1972 Mac was married to Sandy Sergeant, a dancer on the television show Ready Steady Go!, with whom he had a son, Lee. He ascended from the Top of the Pops with the Small Faces to the pinnacle of rock with the Faces, when Rod Stewart and Ron Wood joined the band. With Mac etching his distinctive musical talents onto the playlist of Rock'n'Roll history, co-writing Faces hits such as Three Buttoned Hand me down, You're so Rude and Cindy Incidentally. The Faces enjoyed a rollicking reign from 1970 to the Faces split in 1975.
McLagan had developed a loving relationship with model, Kim Moon the wife of Keith Moon, drummer of the Who. When the Faces' successful line-up was no more, Mac and Kim went ahead with their wedding plans, a month after Keith's death in 1978, and looking for fresh beginnings, went to LA. taking Kim's daughter Amanda with them.
McLagan worked as a sideman for the Rolling Stones, both in the studio, his distinctive Wurlitzer electric piano is heard on Rolling Stones hit 'Miss You', and on tour and on various Ronnie Wood projects, McLagan played with Wood's band the New Barbarians in 1979, alongside Keith Richards, the saxophonist Bobby Keys and Meters drummer Zigaboo Modeliste.
Which led to Mac having the opportunity to cut his debut solo album, Troublemaker, in 1979 —with two Rolling Stones (Keith Richards and Ron Wood) and a Beatle (Ringo Starr) among the players.
Mac's second outing Bump in the night (1980) was also how his Original Bump Band formed. He played on Bonnie Raitt's Green Light (1982) with his Bump Band and went back to tour with the Stones in 1981. The Bump Band was his passion when he wasn't in high demand as a session musician notching up a prestigious list of credits over five decades including Chuck Berry, The Everly Brothers, Jackson Browne, Joe Cocker, Bobby Womack, Melissa Etheridge, Paul Westerberg, Izzy Stradlin, John Hiatt, Taj Mahal, John Mayer, Paul Weller and the Georgia Satellites to name a few. Mac toured with Dylan in 1984 and played on Springsteen's albums Human Touch and Lucky Town (both 1992),
After the L.A riots in 1992 and major earthquakes Mac and Kim relocated to Austin, Texas in 1994. Literally as old band mate Ronnie Lane was leaving for cooler climes due to his deteriorating health. Austin with its passion for music couldn't be a better place for someone whose best music, no matter how English, had an American soul behind it.
During the 90's and 2000's he toured with Billy Bragg and the Blokes. Billy wrote "Years of being in the premier Mod band had left Mac with a sense of style that was finely tuned. Shirt to shoes, he was immaculate and that signature Faces hairstyle was still drawing approving nods in the early 2000's."
Awarded the prestigious Ivor Novello Award in 1996 for his outstanding contributions to British music and inducted into the Texas Music Hall of Fame in 2004, McLagan is beloved by musicians and music lovers alike. He produced the Faces four CD boxed set, Five guys walk into a bar… for Rhino Records, and received a rare honor on April 6th, 2006, when it was proclaimed Ian 'Mac' McLagan Day in Austin Texas.
In 2006, he released a touching tribute to his old band mate, Spiritual Boy: An Appreciation of Ronnie Lane, acclaimed by the Dallas Observer as "a warm and fitting salute to one of rock's sadly unsung master songwriters and a must-have disc." Spiritual Boy has garnered chart success in Mojo and leaves a trail of glowing reviews in Rolling Stone, No Depression, Uncut, and Goldmine.
In 2006 Mac's love of his life, his wife Kim was killed in a tragic car accident. Mac carried on. Somehow. Perhaps that's why he toured almost maniacally ever since. Just days before he died, he had posted all his new tour details on Facebook. His hair had turned white, but he was still Mac the Mod, spikily stylish. What else was he to do but play his heart out?
Following a one-off musicians charity show at the Royal Albert Hall in 2009, the Faces reunited in 2010 with Mick Hucknall on lead vocals and the former Sex Pistol Glen Matlock on Bass, to play International festival dates.
Small Faces and Faces were inducted into the Rock n' Roll Hall of fame on April 14, 2012. In 2014 alone, he appeared on Lucinda Williams's 'Down Where the Spirit Meets the Bone' and co-founded and recorded an Album with the Empty Hearts, featuring the Drummer Clem Burke, formerly of Blondie and Elliot Easton, from the Cars.
In the same year Mac and The Bumps released, 'United States' on Yep Roc Records on May 21, 2014 to rave reviews.
Whether McLagan was singing, writing and playing his own music or as the go-to guy for a session or tour, he remains the quintessence of rock'n'roll.
Ian Patrick 'Mac' McLagan passed away aged 69 on December 3, 2014 in his beloved Austin, TX.