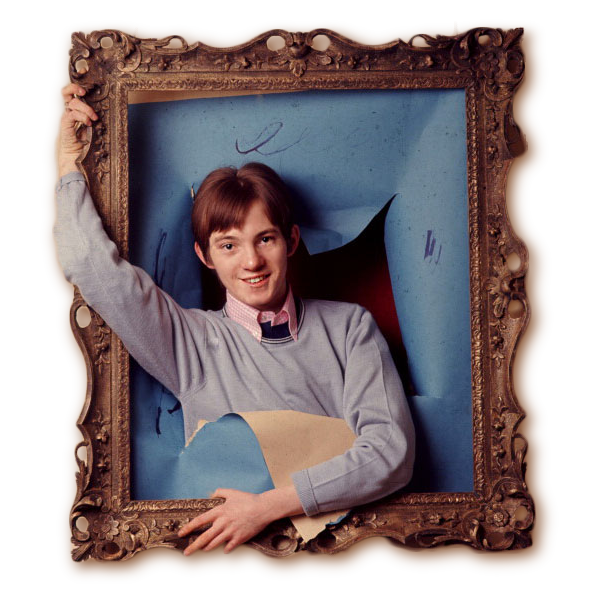 Steve Marriott
Stephen Peter Marriott could well be described as an 'urchin' – a small boy and man (standing just over five foot) who grew up in a bombed out East End and was born on the 30th January 1947.
He came from a fairly musical background – his father Bill being an accomplished pub pianist – who was the life and soul of many an East End night. Bill bought Marriott a ukulele and harmonica and Steve taught himself to play the instruments at an early age, and thus began a lifelong ability to pick up a musical instrument and, within half an hour, have the knack of playing it. During boyhood seaside holidays, Steve would invariably win all the talent competitions. Usually, the first his family would know anything was when he arrived back at the holiday home with a pocketful of cash – that and earning money by busking along the rows of beach huts with his ukulele.
Together with his school friends in 1959 he formed his first band when he was twelve. They called themselves 'The Wheels', later on, the 'Coronation Kids', and finally they settled on the 'Mississippi Five'. The young musicians would play together in the local coffee bars in East Ham and perform Saturday morning gigs at the Essoldo Cinema in Manor Park.
In 1960, when he was 13 he won an audition to be one of several Artful Dodgers in the West End production of 'Oliver'. Perhaps inevitably, Marriott developed his first addiction – to applause – here and for the rest of his life he would love striding the stage and working audiences. Marriott looked to be shaping up as a young thespian, but it was singing rather than acting that determined what he wanted to do and, in 1963, he released his first record.
Marriott then formed The Moments and they began working London's pub and club circuit. Tiny but possessing a powerhouse voice and great confidence, Marriott impressed many who heard him perform.
Meeting Ronnie and Kenney in a Manor Park shop, propelled Marriott forward. As with Paul McCartney and John Lennon, Lane would play bass, co-write songs and act as a calm foil to the effervescent Marriott.
According to David Bowie on a 1999 episode of VH1 Storytellers, in 1964 he and his good friend Marriott planned to form an R&B duo called 'David and Goliath'. Instead, Marriott, Lane and Jones decided to form their own band, with Marriott bringing along his acquaintance, Jimmy Winston (Winston was later replaced by Ian McLagan).
In 1965 the 17-year olds formed a band a female friend would christen the "Small Faces" –small, since none were over 5ft 6 tall, and faces in mod culture being an accolade bestowed upon respected mods. The Small Faces were signed to Don Arden within six weeks of forming and quickly became a successful mod band highly regarded by the youth cult's followers when their debut single "Whatcha Gonna Do About It" hit the UK singles chart. As the lead singer of the Small Faces Steve has inspired a whole generation of British musicians including, Paul Weller, Noel Gallagher from Oasis and a whole slew of mid-nineties Britpop bands and singers.
Growing frustrated at the bands pop image Steve left the Small Faces on New Year's Eve 1968 famously declaring "I quit" and stormed off stage during a live on performance.
Following his departure from the Small Faces, in 1969 Steve formed Humble Pie. Featuring Peter Frampton (from The Herd) and former Spooky Tooth bassist Greg Ridley with Jerry Shirley on drums their harder blues-rock style quickly brought success in both the UK and the USA. While the Small Faces had never experienced any lasting success in the USA, Marriott's Humble Pie would fill stadiums there across the first half of the 1970s, their music being no frills heavy rock. With the US success of Humble Pie, Steve spent a large part of the early seventies in America.
Once more Marriott made and lost a fortune – this time his US management fleeced the band – and Spence's detailing of the singer's slide into cocaine psychosis and alcoholism is grim reading. Marriott appears to have been a supreme narcissist, incapable of comprehending why he alienated everyone he had any kind of relationship with (work or personal). "Talented as Steve was, he was just a bad guy," says one interviewee. And that's putting things politely.
In 1976 he moved back to Britain and released his first, self-titled, solo album. Between 1979 and 1981 he reformed Humble Pie without Frampton and Ridley.
Due to the success of some re-released singles in 1975 and 1976, McLagan, Jones and Marriott were persuaded to re-form Small Faces. Rick Wills took the place of Lane, who pulled out after just two rehearsals. Unknown to the others, Lane was suffering from multiple sclerosis. Marriott did not make any money out of the venture. His earnings were used to extricate him from old binding management contracts. Due to financial problems, Marriott was forced to sell Beehive Cottage, which had been his home since 1968, and move to a small, terraced house in Golders Green, London.
Musical success never seemed to translate to financial security and, becoming disillusioned with the music industry, Steve turned his back on the big record companies and managers who promised everything except getting paid fairly.
Marriott died on 20 April 1991 when a fire, which was thought to have been caused by a cigarette, swept through his 16th century home in Essex. He was listed in Mojo as one of the top 100 greatest singers of all time.